While modern doorbells have their virtues –  namely being small and inexpensive –  they are a pretty boring and uninteresting affair. Just some little square box of plastic. If you're lucky it'll make a wacky noise when you press the button, but most of the time you won't get even that much amusement out of them – the stupid thing just stands there looking insipid and occasionally saying "Ding dong," rather like a blonde woman trying really hard to win the title of Ms America.
The old fashioned door knocker, on the other hand, is a much more colorful critter. It is to the modern door knocker what a peacock is to a sparrow, what a baked alaska is to a McDonald's Apple "Pie", what Woody Allen is to Ben Stiller. Coming as it does in an infinite variety of designs, this archaic species ranges from the cute, to the outrageous, to the, frankly, just plain stupid. So I set out to find the coolest door knockers that I could and after an extensive, worldwide internet search that took me at least 5 minutes, I have put together a magnificent cornucopia of the most resplendent and transcendent examples that I could find of… er… things what is used to knock on doors…
Here we have a fine example of what happens when breast augmentation goes too far. Why she's holding her head I don't know. Maybe she can't believe she was stupid enough to sign up for something called "Dr Gonzo's Mammoth Titties Deluxe." Or maybe she's just getting ready for the almighty clangor that will follow when someone finally gets round to grabbing those puppies.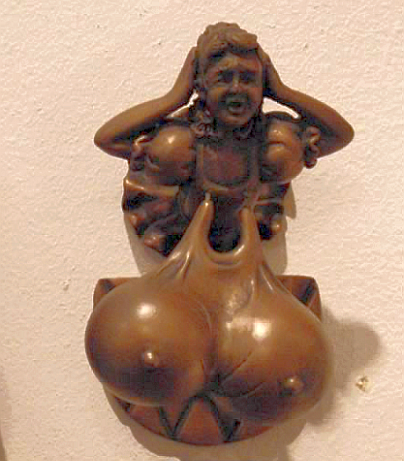 From the mouth of a Francophile gastronome to your door – you can tell it's just escaped from a French restaurant because some jerk has eaten one of its antennae! Also, I am assured by the photographer that it reeked of garlic…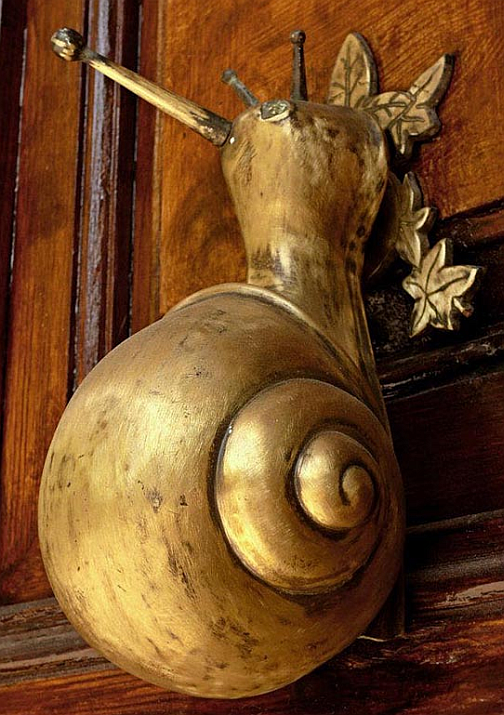 Bad cat! Bad!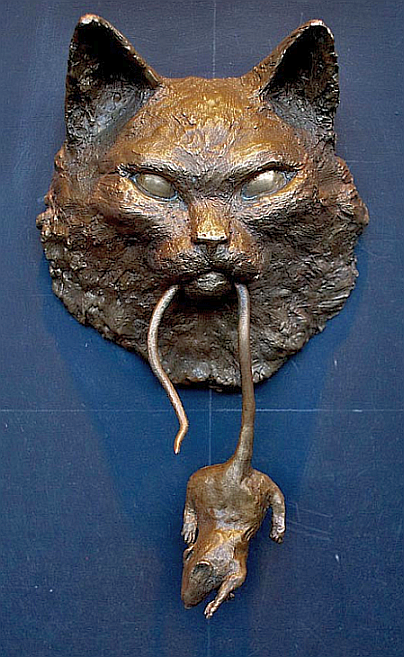 This one is for the weary home owner wishing to give his visitors the boot…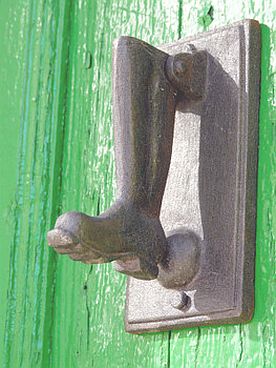 And this one is for when he wants to give them both the boot and the cold shoulder…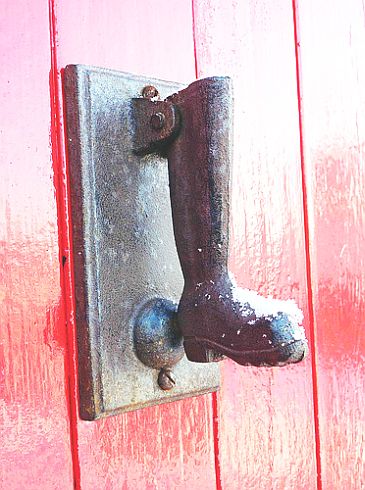 "From hell's heart I stab at thee; for hate's sake I spit my last breath at thee. Ye damned door knocker."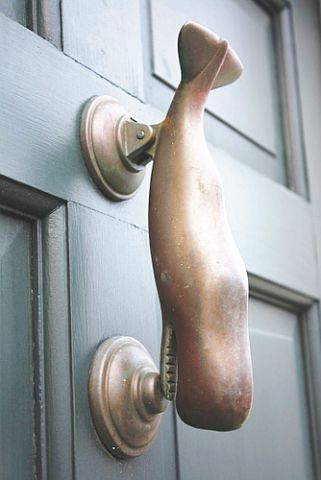 And here we have a startlingly realistic and deeply moving depiction of England's Prince Charles, the Man Who Would Be King if only his mom would hurry up and die already…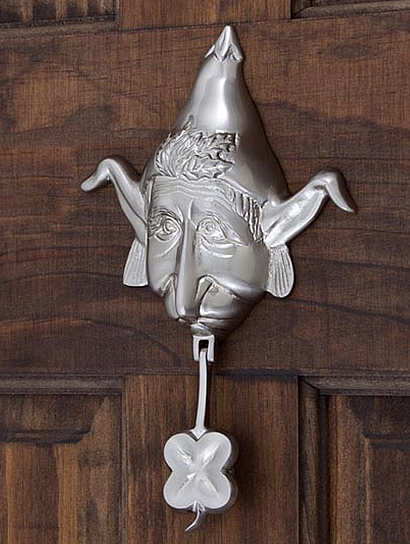 "Hey Rocky, watch me pull a door knocker out of my hat!"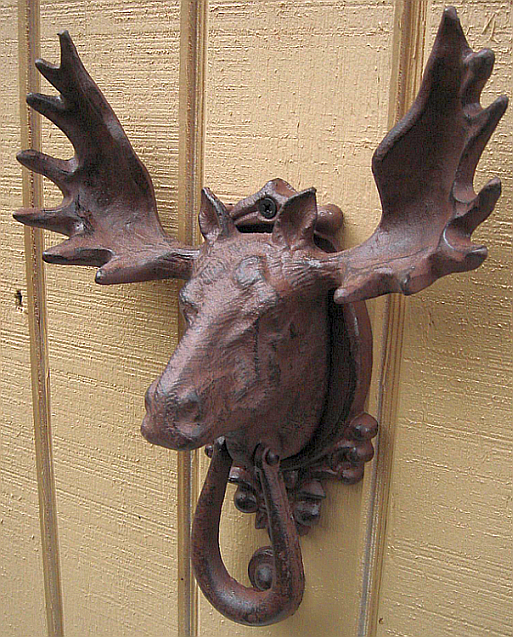 Here's a guaranteed way to keep Jehovah's witnesses at bay. The downside is that it might attract Satanists and people canvassing for the Republican party…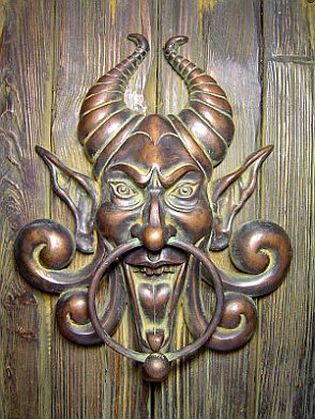 A horse is a horse, of course, of course. And sometimes he's also a door knocker…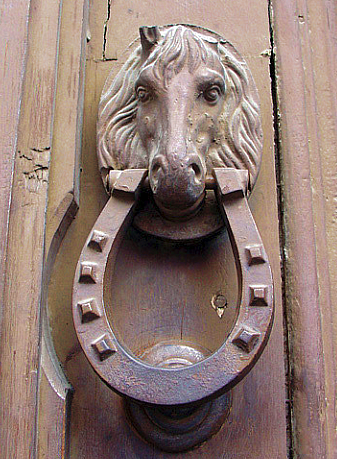 For the neurotic home owner we have this representation of the King of the Jungle, an animal which, if his expression is anything to go by, is a fine example of Shakespeare's caveat that "uneasy lies the head that wears a crown, though it won't get as many weird stares as the head that wears a pinwheel hat…"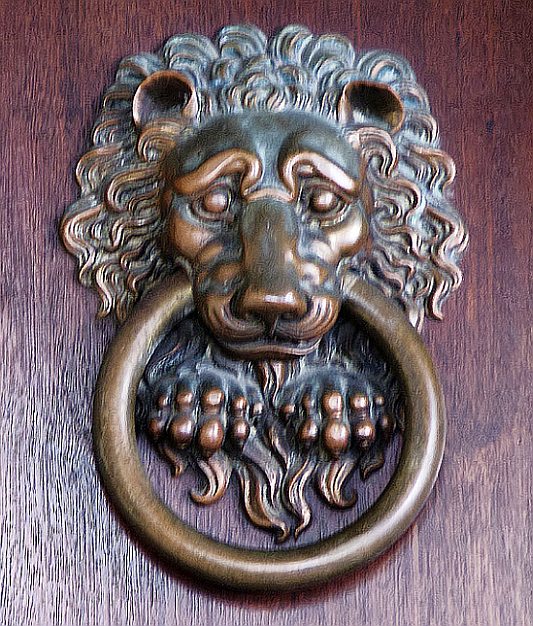 And of course, sometimes it's not so much the door knocker that is of interest, but rather the stupidity of whoever placed it on the door. Unless, that is, this woman's a midget, in which case I may be about to get sued for impugning the intelligence of whoever owns that door…