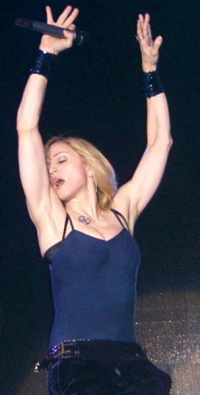 It would appear that notorious Pop Diva and horse fancier Madonna did not endear herself to Hamptonites during her last stay at Wolffer Estate Vineyards in Sagaponack.
According to reports, the neighbors  were none too thrilled at their famous guest's demands while staying at the Estate, demands which included that no one else be allowed to ride a horse while she was doing so, and that a new 15 year old boy should be provided for her amusement every day.
Rabbi Herschel Schlemiel, of the Upper Hampton Synagogue, complained that  Ms Ciccone was a frequent visitor to the synagogue but seemed to have little understanding of Jewish tradition…
"She was always asking me where the Holy Water was!" he told us.
Another  Hamptonite, who wished to remain anonymous, commented that…
"It was awful the last time she was here, there were used condoms scattered all over the forest!" Source here.