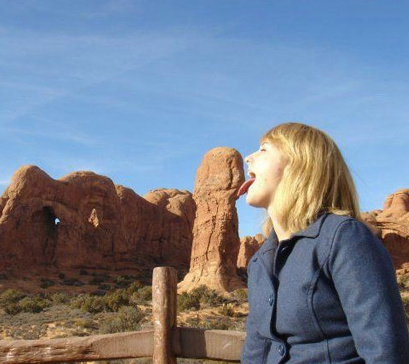 Ms Kathleen Henderson was today arrested under Arizona's strict new laws on public indecency after she was photographed fellating a rock.
Ms Henderson's offense is considered by the local authorities to be all the more egregious as the 28 year old schoolteacher was at the time leading a Fourth grade field trip to Spritedale National Park, where the group had planned to take part in the annual Dirt Digging Festival.
According to Sergeant Johnny Janowitz of the Spritedale Police Department, his state has become increasingly intolerant of such behavior…
"It is despicable and disappointing that innocent children looking for a little dirty fun  should instead be subjected to filth such as this! This is why this country is falling apart – gays getting married and women blowing rocks left, right and center! It is for this reason that the Spritedale Police Union supports not only the recently passed laws forbidding sexual contact with inanimate objects, but also the proposed new legislation which would require all ducks to wear pants while in a public place. "
Ms Henderson was not available for comment, though a lawyer speaking on her behalf claimed she has a clean record at the school, and that the entire thing has "been blown out of proportion" by a sensationalist media, a charge which I for one find ludicrous.
Ms Henderson meanwhile, has been released on a $100,00 bond and if convicted faces a maximum of 60 days in jail, as well as a lifetime order to keep her mouth shut whenever there is a rock present.