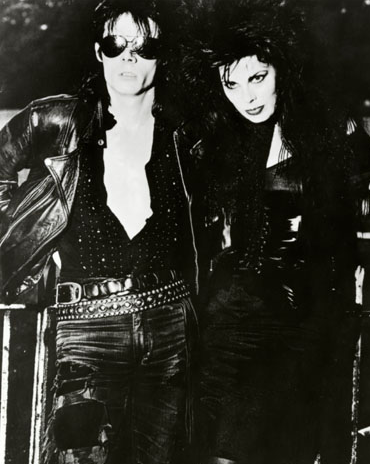 Time is unkind to music and music videos. Unlike most other matters of taste, the first has the death of its cool artificially accelerated so you can go out and blow your beer tickets on the latest thing, and the second needs to keep evolving lest youthful audiences get bored and go back to playing Halo.
In these two respects, the passage of the decades has dealt late 80s Gothic rock band The Sisters of Mercy a rather mixed hand. Musically, the UK outfit's dark sonic fury and apocalyptic lyrics about a world stuck in an unstoppable descent into barbarism still make the grade, and if anything seem more relevant today as society teeters on the edge of a full-blown science fiction dystopia. The band's videos on the other hand, while not dating quite as badly as those of more pop-ish acts such as Culture Club or Bananarama (which I believe was originally what Culture Club were going to call themselves, for reasons I need not explain,) have nonetheless grown as moldy as a Ding Dong that's spent a few weeks too many under your parents' couch.
Take for instance "This Corrosion". First up we have a shot of an overcast sky, and a pale Patricia Morrison sporting high-arched eyebrows and what appears to be at least half an inch of baking flour on her face. Next we see lead singer Andrew Eldritch, a tall skinny man, his pallid skin made paler by black sunglasses, black hair, black leather jacket, pretty much black everything, as he wanders through what looks like a set left over from The Road Warrior. It's a big mess — mud and rubble everywhere, dirty, hungry-looking street dwellers sheltering where they can — and our hero seems to be looking for something or someone. Given that he is a fit young man, yet carries a cane, I am assuming that the object of his search is his old granddad, who no doubt left said cane at the lead singer's house the last time he dropped over for a cup of tea and some scones. How the old man got home without his cane I don't know…
Meanwhile Morrison, having grown sick of being spied on by a dwarf hiding inside an empty oil drum, has abandoned her dentist's chair ( why she was in a dentist's chair I don't know. For one thing not only was she outdoors but there was no dentist present — perhaps her dentist is  Eldritch's grandfather, who has failed to turn up for work because he is out looking for his cane, ) and taken to roaming aimlessly around while wearing a bewildered expression and occasionally pretending to strum a bass guitar. In the meantime the ragged rabble has wearied of being dry and come out  into the pouring rain where, much to our surprise, they reveal themselves to be a troupe of unemployed singers who proceed to form a choir and belt out the chorus. By the end of this 10 minute epic poor Andrew is still wandering through the mud with his granddad's cane, flour-girl is dazedly looking around for her guitar pick, and amid lighting flashes the rain continues to pelt a once green and pleasant land, all of which I take it is meant to underline just what a sinister dystopia they all inhabit….
Then there's "Lucretia, My Reflection." This time 'round our melanin-challenged duo find themselves in melanin-rich India. Andrew, still wielding the old man's cane, is in some sort of railway workshop — or is it a textiles mill? Frankly I don't know, but at least it isn't a McDonald's and that's what really matters. As the puzzled locals contemplate calling the police, Eldritch struts around waving his grandfather's cane and singing about big machines and dive bombers, methadrine and how the empire is still alive now as then…
As for Patricia, she seems to be lost in Bombay, wearing the perplexed look of a woman who is wondering how the hell she wound up in India after boarding a bus bound for Droitwich. Our big-haired bassist is constantly scanning her environs, as if she is looking for something or someone as she makes her way through the crowded metropolis on a series of buses so packed she has to ride on the sideboard, and trains whose only respite from the heat is a passenger door left conveniently open, something for which our grossly overdressed heroine is no doubt grateful…
And now there's Andrew in an industrial lift, complaining of "A long train held up by page on page," thereby giving us the first clue as to what is going on. It seems Morrison is on her way to meet Eldritch, perhaps to ask him how to get to Droitwich. And now she has magically taken his place in the lift, and then suddenly they are both walking along a shore in the company of people much shorter than themselves, which suggests that they have abandoned their quest for Droitwich and have instead settled for a day swimming in the Ganges, no doubt because it was the more hygienic of the two options…



And finally, for the "Dominion" shoot, having decided that India is too temperate a clime, the intrepid pair have now moved to somewhere in the middle east, apparently the ancient Jordanian city of Petra. Strangely enough, they have both lost their Goth trappings, though Morrison still sports the kind of hair in which you could easily hide a nest of raccoons. As for Eldritch, he still carries a cane, but it's a different one so we can safely assume his granddad isn't still hobbling around England trying to get a new one on the NHS. This new cane seems to have a much greater role to play than its predecessor, as Morrison and her band of Arab henchmen seem hell-bent on getting it away from Eldritch, who at one point brags of his possession by holding up the prized object and singing out "Cane! Cane! Cane!"
Why this particular cane is so important we are never told, though the fact that it conceals a sword suggests it may symbolize colonial power, or perhaps a very large toothpick. Either way, Patricia wants it with a vengeance, and after some wheeling and dealing and much passing back and forth of secret documents our California-born antagonist finally gets sick of Eldritch's goading and orders her henchmen to storm his hiding place. The last we see of poor Andrew he is symbolically moving the cane's blade across his throat while singing about saying his prayers, and you know that can't be good.
And sure enough, in the next shot Morrison is seen pulling the cane from the trunk of a car, a trunk which also contains what appears to be our hero's body, proving once again that in the Arab world there is nothing more dangerous than an covetous American…